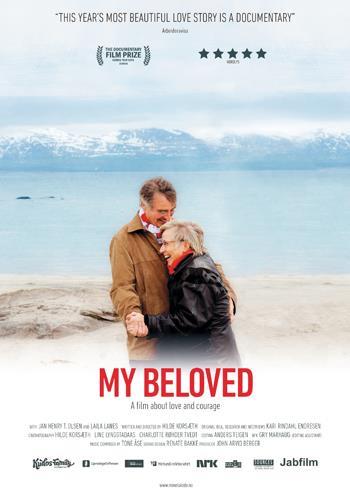 Host Community Screening: My Beloved
My Beloved outreach programme spreads knowledge and understanding about Alzheimer's disease.
My Beloved is a great resource to spread knowledge and understanding about Alzheimer's disease. Using the film and its complimentary outreach programme is an easy yet very effective way of initiating conversation and getting audiences to deeply understand the challenges many face when someone they love is diagnosed with dementia. The film offers an emotional connection to the subject, and underlines that nobody is in this alone.
The programme is built around the heartwarming and honest film My Beloved. My Beloved tells the story of Norway's popular former Minister of Fisheries, Jan Henry T. Olsen, and his wife Laila Lanes. Jan Henry met the love of his life at the age of 50 and was diagnosed with Alzheimer's at 51. This moving and award winning film follows the couple through a whole year of joy and happiness, frustration and sorrow.
Laila and Jan Henry chose to be open about their situation in order to inspire and help others in the same situation around the world. Recognising situations in the film, as well as witnessing the insights Jan Henry and Laila arrive at, offers comfort, inspiration and real understanding of how to handle day-to-day challenges when one has to live with dementia.

My Beloved is produced for educational purposes, partly funded by the Norwegian Directorate of Health.
If you wish to use My Beloved and its complimentary outreach programme you will receive discussion guides, articles, posters, invitations, artwork and assistance in facilitating the screening. As an organiser you decide where and when the screening will take place; whether it is in a cinema, community centre or your own living room.
All organisers receive a set amount of DVDs that can be sold or distributed at the event to cover costs.
Please click this link if you wish to host a community screening.